E-016
Description
latest hair removal beauty device YU-E02 with CE Approval
Function:
1. Hair removal
2. Pigmentation lesions
3. Skin rejuvenation
4. Vascular lesions
5. Acne treatment
6. Wrinkle removal
6. Wrinkle removal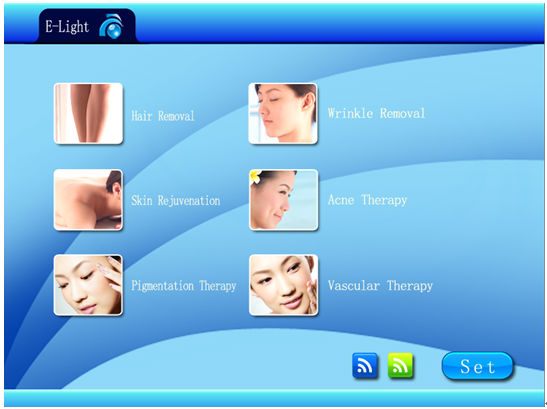 Advantage of the machine
1. RF energy can be applied to any type of skin
2. Used in deep color skin or light color soft hair
3. RF combines with IPL , decrease the risk of burn and uncomfortable feeling significantly
4. No side effect
5. Special designed SWB device can ensure a safety treatment
6. Easy to operate-the treatment tip is smart and can be applied on the skin directly
7. Patent epidermal cooling skill makes clinical more comfortable and safer
8. Highly Combined with RF and IPL technology
9. RF application separately supported over 30 thousand times IPL shot
Standard:
1) Hair removal (640nm~1200nm)
2) Skin rejuvenation (530nm~1200nm)
Optional:(430nm,480nm,560nm,590nm,690nm)
Note:this machine have two handle,each handle have one filter fit inside,so you have two choice for choosing the other filter.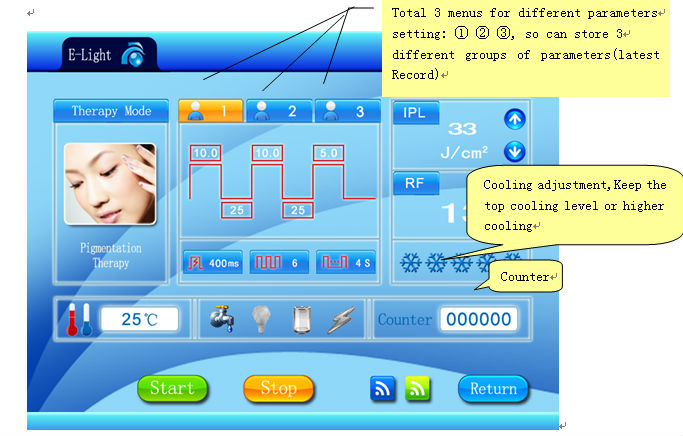 Course of treatment
Item

Period of treatment(PT)

Remark requirements

Hair removal

1 time every 21-40days, 3-6 times every PT.

Shaving the unwanted hair at the

treatment area

Freckle removal

1 time every 21-28days, 6 times every PT.

1. The patients should be suitable to accept treatment. It means they don't have the symptom described in Contraindications

2. No hypersusceptibility recently

3. The patients should cooperate

with operator's instructions

4. Clean treatment area after

treatment

Skin rejuvenation

1 time every 21-28days, 6 times every PT.

Vascular therapy

1 time every 21-28days, 3-6 times every PT.

Acne skin

1 time every 21-28days, 3-6 times every PT.

Lifting

1 time every 21-28days, 6 times every PT.
Theory:
Elight takes strong pulse IPL and bipolar radio frequency electromagnetic wave withspecial widthspectrum, selectively acts on target texture, to do skin rejuvenation, freckle removal, hair removal, wrinkle removal effectively. On treatment if 5 to 10 times than traditional photon therapy.
Excellent Design:
Bipolar RF + IPL + Epidermis refrigeration:
Elight combines good traits of IPL and Radio Frequency, warms up strong pulse, takes bipolar rf to strengthen acting on deep tissue, uses skin can selectively inhale light energy, to induce different impedance between target texture and normal skin. Under the circumstance of low light energy, it strengthens target texture to inhail radio frequency, greatly eliminate side effect like bleb, pigmentation caused by heat action of light energy filtering. Elight can penetrate skin deep, selectively act on hypodermal pigment, blood vessel, dissolve freckle, close abnormal vein, solve skins all kinds of flaws. Simultaneously, Elight can stimulator hypodermal collagen rebirth, make skin youth, health and smooth.
The IPL , RF and Cooling working on the skin
Remove various kinds of pigment such as freckle, chloasma, aged spots, sunburn , treat angiotelectasis , Acne treatment
Specifications:
IPL wavelength/type

640-1200nm; 530-1200nm; 480-1200nm

Power

800w

Lamp Longevity

100,000 shots

IPL+ Bipolar RF + Epidermis refrigeration

8 inch TFT touch panel

Light source

Intense pulsed light

Refrigerating method:

Semiconductor refrigeration + Water Circle

Energy density

0-50J/cm2 (IPL) 0-50J/m3 (RF)

RF signal

multi-frequency and complex frequencies

RF output method

bipolar circuit

Output size of Facular

8x40mm

Pulse Number

1-6T

Pulse cycle

1-4S

Pulse width

1.0-9.9ms, 0.1ms step

Pulse interval

05-99ms, 5ms step

RF waveform

500ms-9500ms

MEAS

50*45*40CM

N.W

30KG